Atari and Foodgod Team Up to Make New "Food Truck Frenzy" Game a Reality in Beverly Hills
1 min read
Summer is right around the corner, and with it comes a great desire for great food! TV personality and Instagram icon Foodgod, (AKA Jonathan Cheban) and Atari, one of the world's most iconic interactive entertainment producers, recently teamed up to create a real-life food truck frenzy in Beverly Hills, California in celebration of the launch of their new mobile game —  Foodgod's Food Truck Frenzy. 
The renowned foodie spent a few days promoting his new game and having an all-out food fest with excited passersby. Sporting his very own Atari/Foodgod-themed food truck, Cheban mingled with guests and served up a scrumptious fan favorite: loaded fries! The food was criminally delicious, so much so, in fact, that the local authorities were alerted — all in good fun, of course.
Along with handing out free T-shirts and participating in a sea of endless selfies, Foodgod himself spent some time talking with fans about the game and his involvement in its development.
Foodgod's Food Truck Frenzy is a fun (and free) reimagining of Atari's arcade classic Food Fight and boasts an addicting match-3 puzzle play style. Players collect recipes, battle for sacred food truck territory, solve scrumptious puzzles, and power-up their food trucks, all under the watchful eye of Foodgod, ruler of the Food Kingdoms.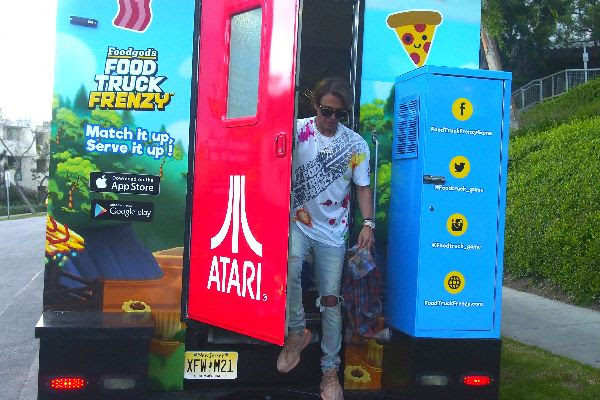 To download Foodgod's Food Truck Frenzy, please visit: