Dandy Ace Reveals Twitch Mode for Livestream Shenanigans During Special Preview Event on Steam
3 min read
Newly enabled game mode allows viewers of Dandy Ace to cause mayhem in their favorite streamer's gameplay
As it prepares for a Q1 2021 launch, today Neowiz announced a brand new feature coming to Dandy Ace, the upcoming action roguelike from Mad Mimic Interactive. Playfully called 'Magic Mirror Mode' as it allows viewers to take on the role of the game's antagonist Lele, the new feature lets viewers of the game on Twitch make the streamer's gameplay unpredictable to sometimes hilarious results. This new mode takes center stage before the game's launch during Dandy Ace's upcoming Creators' Preview Event taking place from January 11th to January 25th. Press, creators, and players alike can head to Steam and download the demo to take part in the event.
By enabling "Twitch Mode" from the Custom Mode menu when starting Dandy Ace, when streamers go live on Twitch, their audiences will be able to use Twitch Chat to take on the role of Lele, the game's antagonist, and influence the challenges ahead of Ace as he takes on the Cursed Mirror. They can do things like spawn random enemies, block potion usage, and even use some of Ace's spells against him. This one viewer, chosen at random each run, can even drop Twitch Cupcakes into the game map that will either poison or heal ace upon use.
Aside from taking on the role of Lele, Twitch Mode also allows viewers on Twitch to taunt and encourage the player upon death (we'll leave which one you prefer up to you). Votes can be taken to determine Ace's path through the Cursed Mirror. Viewers can even decide what rewards are available at the Reward Tent between levels. And if players are feeling generous, they can drop specific spell cards for Ace to use against the foes within the Cursed Mirror.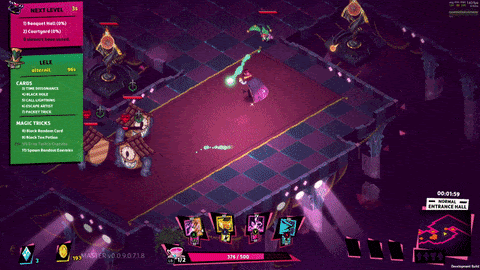 Hot on the heels of the amazing Awesome Games Done Quick event, we recommend trying to pull off some speed runs of the Creators' Preview Event in true AGDQ fashion. For the faint of heart, you can still try the Twitch Mode and customize just how much trouble your viewers can cause you if you're not up for letting them dominate your entire trip through the Cursed Mirror.
About Dandy Ace:
Dandy Ace is an over the top fast-paced roguelike experience that follows a fabulous magician seeking to combine and use his magical cards while fighting and looting his way to defeat the Green-Eyed Illusionist, Lele, who has imprisoned him in a cursed mirror. While battling your way through Lele's ever-changing palace, combine different cards with more than a thousand possibilities, each with their own playstyles and powers. Every run provides new challenges and combinations for players to explore as they progress closer to Lele.
Play as Dandy Ace, the amazing hero, and survive the challenges of the extravagant, lavish, and ever-changing palace created to defeat him filled with bizarre creatures and outrageous bosses. Find all the magical cards, gather shards and gold, and get help from his assistants.
Wishlist Dandy Ace on Steam