"Snooker 19" the definitive virtual depiction of the sport, is out now!
2 min read
Snooker 19 available now on PC, PlayStation 4 and Xbox One
Coming to Nintendo Switch later this Spring
Ripstone Games, in collaboration with Lab42 and World Snooker, have today released Snooker 19 on PC, PlayStation 4 and Xbox One. Snooker 19 is available for purchase on Steam, the PlayStation Store and the Xbox Games Store for $34.99 / €34.99 / £29.99. A Nintendo Switch launch of Snooker 19is due later this Spring.
Snooker 19 features 128 of the world's top players including Ronnie O'Sullivan, Judd Trump, Mark Selby and Ding Junhui. Players can choose a seasoned pro or a rising star and progress through the ranks in the single player career mode, playing at meticulously detailed recreations of iconic venues such as The Crucible in Sheffield, The Tempodrom in Berlin and The Olympic Sports Center Gymnasium in Beijing. As they progress through their career, players will earn trophies to commemorate their victories and gear to customise their avatar.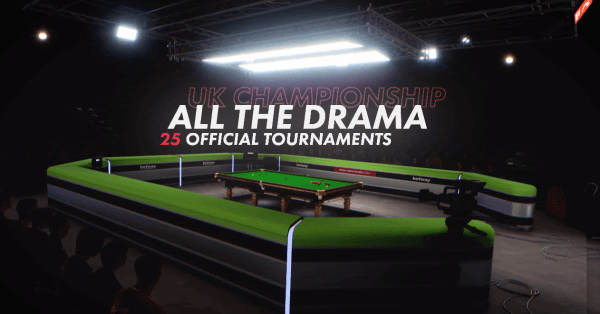 Players can challenge their friends to matches locally or online, where they can also matchmake against regional and global opponents. For the biggest challenge of all, players can compete in global online tournaments, synced to their real world counterparts. Winning online tournaments will earn players highly stylised cosmetics such as new cues, waistcoats and bow ties, showing anyone competing against them that they are the king of the table. The first online tournament will be the Betfred World Snooker Championship, taking place at the legendary Crucible in Sheffield from April 20th – May 6th.
"Being big fans of snooker, we're thrilled to finally bring Snooker 19 to the masses," said Justin Forrest of Lab42, Game Director of Snooker 19. "This has been a big passion project of ours and the chance to work with World Snooker was a dream come true. We're confident that we have created the definitive snooker experience, and hope you will agree when you try Snooker 19 yourself."
Leveraging the visual feature set of Unreal Engine 4, Snooker 19 sets a new visual standard for the snooker video game. Lab42 have created a custom advanced physics engine, designed from the ground up to deliver the most true to life snooker experience and an AI engine designed specifically to emulate the way different pro players approach their shots and maneuver the cue ball around the table to continue their break.
What the critics are saying:
Pocket Gamer – "Playing Snooker 19 just feels right."
Eurogamer – "Snooker 19 looks like the best snooker video game in a good long while."
Kotaku UK – "Snooker 2019 plays like the real deal: a great-looking recreation with an interface that can be used quickly, and all the modes any pot-fancier could ask for."
"We want Snooker 19 to be the definitive video game snooker experience," said Hollie Pattison of Ripstone. "Collaborating with World Snooker and the development team at Lab42 has been incredible, we've all pushed to create an authentic sports TV-style presentation in the game, completely transporting players into the professional snooker experience."